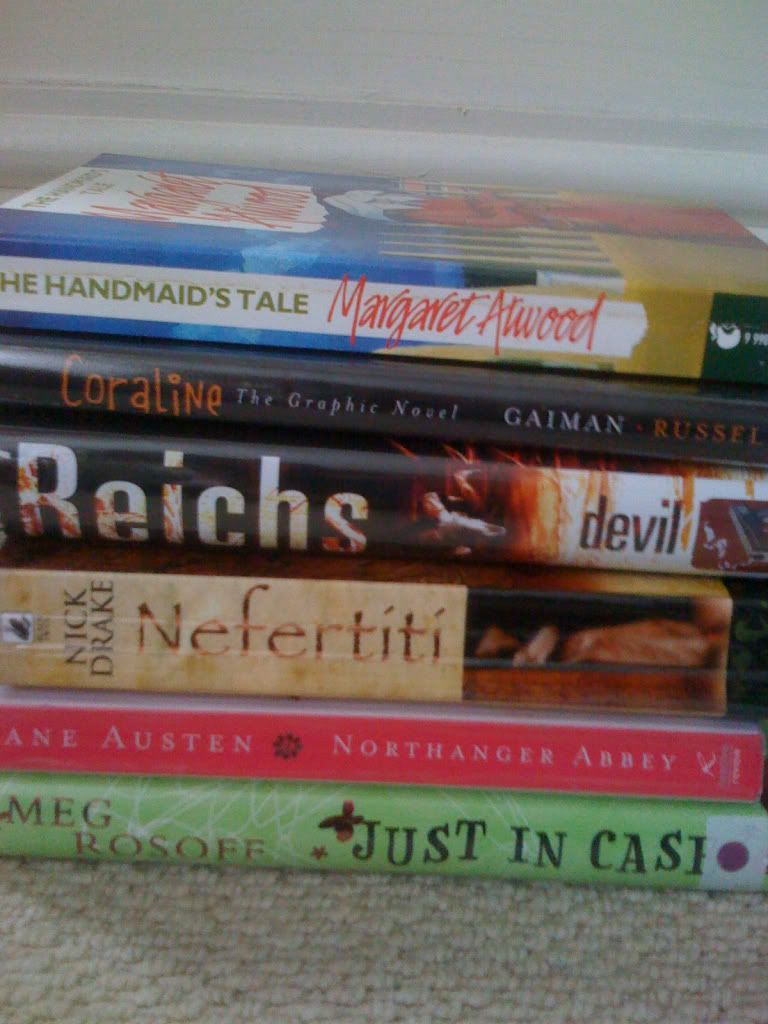 Good afternoon fellow saloners; I just got back from my local library with a nice stash of books. It's been years since I set foot in a library, as kids we used to go every Saturday but then I developed a taste for brand new books and started spending my hard earned cash on them instead. Since I've started using book mooch to swap my second hand books I've come to realise that it isn't so bad to read a book that someone has read already – and it's a much cheaper way to feed my addiction than buying new. The fact that I've accumulated 180 brand new books that currently sit unread on my shelf also makes me feel guilty about adding to the pile!
So a couple of weeks back I joined my local library via their website and reserved a copy of Coraline, and today I went in to collect it and to have a nosy around and see what else I could find. Here's what's in my stash:
Coraline by Neil Gaiman – I've heard great things about this graphic novel and can't wait to read it. I think I might save it for Halloween!
Devil Bones by Kathy Reichs – I'm a bit fan of the tv series Bones and have been tempted by the Tempe Brennan books for some time. I'm not really a big crime reader though so I've never bought one. This one was sitting on the 'new in' shelf and I couldn't resist. It has to be back within the week so I'll be tackling this one later this afternoon.
Just in Case by Meg Rosoff – I was browsing the YA shelf and came across this title; I have another Rosoff book on my wish list so I thought I'd give this a try.
Nefertiti by Nick Drake – I've heard great things about this book from other book bloggers.
Northanger Abbey by Jane Austen – I stated reading this on my iPhone a couple of weeks back. But while Stanza is a great app for the odd snatched ten minutes here and there it's not condusive for long periods of reading. Hopefully I'll get through the book a bit quicker now I have the 'real thing' in my hands!
The Handmaid's Tale by Margaret Attwood – this one actually came from Book Mooch; I want to read it as the bonus book for the Classic's Challenge.
And there you have it; the books that came into my house today. What about you? Have you brought any new books into your house this week? What do you think of libraries? Is your local library a well stocked Aladdin's cave? Let me know in the comments
Related articles by Zemanta